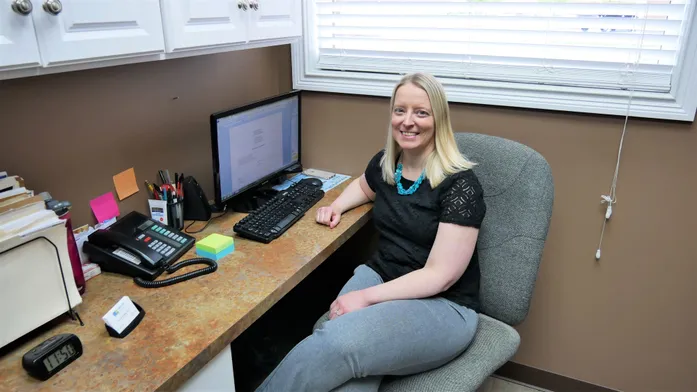 Adult Psychologist Dr. Tricia Giessler Zaferes
Dr. Tricia Giessler Zaferes is a licensed clinical psychologist that specializes in treatment and assessment of adults with industrial injuries, chronic pain and health problems, while also treating those facing struggles with depression, anxiety and other mental health conditions.
From Dr. Giessler Zaferes...
"As a psychologist one of my main jobs is to help people cope with mental health problems such as depression, anxiety, trauma, stress and many other metal health difficulties that people sometimes will have. Here at Hamilton Associates I often work with patients who have been injured at work and these patients are often facing many difficulties such as developing chronic pain, having limitations with work, limitations with other physical activities and just limitations to any other daily activities. As a Psychologist I help those patients learn how to cope with and adjust to those changes in their lives and help improve their daily functioning level. As psychologists we know that mental and emotional stress can have a huge impact on our physical health and our daily functioning level. So by learning ways to create new healthy behaviors and shift negative thinking we can not only impact our mental health but also impact our physical health and just create an overall better functioning level for ourselves. So if you're interested feel free to give us a call at the office, we would be happy to help you with any struggles you're having and help you find a way to live a better life" - Dr. Tricia Giessler Zaferes

What do psychologists do?
Practicing psychologists use an assortment of evidence-based treatments to help people improve their lives. Most commonly, they use therapy (often referred to as psychotherapy or talk therapy). There are many different styles of therapy, but the psychologist will choose the type that best addresses the person's problem and best fits the patient's characteristics and preferences.

Some common types of therapy are cognitive, behavioral, cognitive-behavioral, interpersonal, humanistic, psycho-dynamic or a combination of a few therapy styles. Therapy can be for an individual, couples, or a family.
Dr. Giessler accepts most insurances, workers compensation, and auto accident insurances.
She sees only adult patients.
Please call the office today for more information regarding Psychology Services. Contact us at (513) 863-2273 or [email protected]